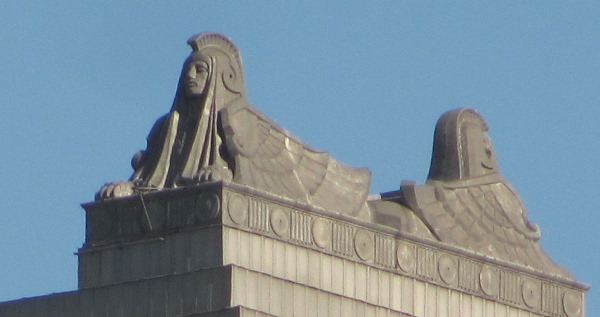 The two sphinxes atop the St. Louis, MO, Civil Courts building were sculpted by Rebeck and are one of his best known national accomplishments. A picture of the model is shown above left as well as the completed work (images with author's permission). The St. Louis Times described them as follows:

The sphinx-like ornaments are aluminum shells, each 20 feet long and 11½ feet high. The interior of each resembles a room of ordinary size, to which access is gained through an opening at the base. Reclining back to back, one of the figures faces east and the other west. Encrusted on the breast of each is the fleur-de-lis of St. Louis. The griffins, with the aluminum of the roof, form a huge lightning conductor, which is connected with the grouch by concealed wires.

The sphinxes were given human faces instead of a lion's face in order to symbolize mercy tempering justice.

Photo by William S. Parker, used with permission

The Civil Courts Building was designed by the architectural firm of Klipstein & Rathmann's. The building was completed in 1930. It is not known how or exactly when Rebeck received the commission. The biographical information on Rebeck in Contemporary American Sculpture (1929) already lists it as one of his works.
REFERENCES
"Riddle of the Sphinx Puzzles City Officials," St. Louis Post, August 16, 1927.

Contemporary American Sculpture. National Sculpture Society, 1929, p. 270.

"Griffins on Temple of New Courthouse Made of Aluminum," St. Louis Times, June 21, 1930.

Clark, Edna N. Ohio Art and Artists. Richmond, Garrett and Massie: 1932, p. 486.

McCue, George. The Building Art in St. Louis: Two Centuries. Knight Publishing Co: 1981, p.46.

Landmarks Letter. Landmarks Association of St. Louis, Vol. 33, No. 3, May/June 1998.

Who's Who in American Art 11th, 12th and 13th editions. New York: R.R. Bowker, 1973, 1976, 1978.